It's A Great Day In
Avalon at Seven Meadows
,
Katy and Houston Texas Real Estate!
Call Shea Now To View These Great Homes:
832-444-4134
Avalon At seven Meadows, Katy Texas - Golf Homes, Waterfront Homes, Custom Homes
Search Avalon at Seven Meadows and ALL metro Katy and Houston Properties for Sale FREE through the Complete Texas MLS - Click Here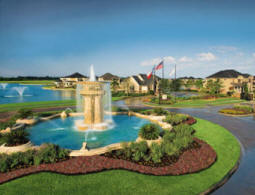 Avalon at Seven Meadows is one of the best places to live in the Houston and Texas area. The luxury homes range from $300K to over a million dollars. The Katy community includes 28 acres of lakes with fountains, a six acre central park with recreation center and picnic pavilion, swimming pool and spray park, children's play areas, recreation center offering meeting rooms, an exercise room and a media room, landscaped trails, open meadows, picnic areas, neighborhood parks, greenbelt, tennis courts, and a private community network.

Avalon at Seven Meadows Water and golf are the themes for Avalon at Seven Meadows, where 96 percent of all home sites will have views of 28 acres of lakes with fountains, or of the Meadowbrook Farms Golf Club, featuring an 18-hole championship course designed by Greg Norman. Located at the Grand Parkway and Fry Rd., in the Katy Independent School District, Avalon at Seven Meadows is a gated enclave with private streets, located within the 860-acre Seven Meadows community. Taylor Woodrow.

Avalon at Seven Meadows features Custom Homes by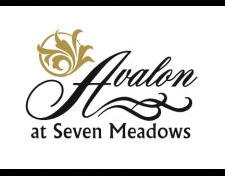 PETERSON HOMEBUILDERS
STERLING CLASSICS
WESTPORT
FAIRMONT HOMES
MASTERCRAFT CONSTRUCTION
TAYLER JACOB CUSTOM HOMES
TOMMY BAILEY HOMES

Semi Custom Homes by
TAYLOR WOODROW HOMES
PARTNERS IN BUILDING
TRENDMAKER
Search Avalon at Seven Meadows and ALL metro Katy and Houston Properties for Sale FREE through the Complete Texas MLS - Click Here
Avalon at Seven Meadows Amenities

Seven Meadows is filled with inviting landmarks such as human sundial to tell the time, our own version of Stonehenge, and a bridge called Enchanted Crossing that truly lives up to its name. You can plan an outdoor picnic or indoor party at the Central Park Residents Club, where there's also a water park, tennis courts and more. The Cross Meadow Recreation Center is home to our popular swim team, and Water Lily Park delights visitors with a giant water lily sculpture. No matter where you live in Seven Meadows, you're never far from a major recreation facility or a quiet pocket park, and you can get anywhere in the community using our friendly network of greenbelt trails.

Avalon at Seven Meadows Meadowbrook Farms Golf Club
Ranked as one of the top 20 golf courses in Texas by Golf Digest, the *Meadowbrook Farms Golf Club is a championship, 18-hole course designed by golfing legend Greg Norman, including wetland ponds, native grasses and stands of trees along its dramatically contoured fairways. Seven Meadows residents enjoy special access to this prestigious course, which includes a clubhouse with a pro shop, casual grill and banquet facilities. Whether you play golf or not, you'll enjoy vistas of this breathtaking course as it meanders throughout the community.

*Additional fees do apply

Avalon at Seven Meadows Central Park Recreation Complex
Designed in beautiful Prairie-style architecture, the Central Park Residents Club is one of the first sights you'll see when driving into Seven Meadows. This six-acre amenity offers a water park, tennis courts, picnic pavilions, and a clubhouse with a fitness center, theater and meeting room. Connected to the entire community by greenbelt trails – so you can easily walk or ride your bike here – Central Park is "fun central" for Seven Meadows.

Avalon at Seven Meadows Cross Meadow Recreation Center
Home to the Sailfish, the popular Seven Meadows swim team, Cross Meadow Recreation Center offers a 25-meter Junior Olympic pool accommodating regular practice as well as competitive meets. The pool is also designed for non-competitive fun, with edges that flare out to hold water amusement features such as a spray fountain. Other features of Cross Meadow Recreation Center include a wading pool, a spray ground, numerous shade structures, and a poorhouse with changing rooms. A playground rounds out the design for this refreshing amenity.

Avalon at Seven Meadows Parks and Trails
The award-winning Long Meadow Park is a 25-acre oasis of trees, flowers and picturesque bridges, winding through the heart of the Seven Meadows. From Cross Meadow Park to Water Lily Park, Seven Meadows has many amenities providing residents of all ages with places to swim, play or simply relax. There are miles of greenbelt trails, leading from every neighborhood to recreational amenities and our own Katy ISD elementary school. What makes Seven Meadows even more unique are all the surprises you'll discover right in your own neighborhood, whether it's a human sundial, a reflecting pond or a tranquil community garden. These all define Seven Meadows as a truly fresh alternative.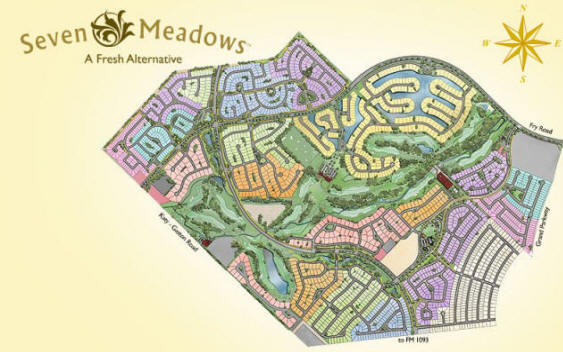 Now,you can spend less time getting there and more time living life. The addition of the Westpark Tollway (EZ Tags are required for the Westpark Tollway) puts you close to your family, and everything else Seven Meadows has to offer, like the Central Park Residents' Club and the Cross Meadows Recreation Center. Together, these facilities offer a variety of fun features, including pools, kid's spray parks, picnic areas and more. Seven Meadows is in the acclaimed Katy ISD. Looks like the perfect life also comes with the perfect commute.

Commute Times:
• Westchase District – 19 minutes
• Energy Corridor – 23 minutes
• Greenway Plaza – 29 minutes
• Galleria – 30 minutes

*These drive times are based on drive time study conducted 2-06 by MetroStudy from Tuesday through Thursday (not during inclement weather or roads with major construction) during evening rush hour on the Westpark Tollway.


City of Katy, Texas
At the intersection of three counties, the Katy area offers distinct opportunities all in one location. It combines the amenities of a major metropolitan area with the advantages of hometown living.

With a number of major grocery stores, specialty shopping like the Katy Farmers Market and the Katy Mills Shopping Center, shopping in Katy can provide for all your needs. Katy also boasts a number of parks, golf courses and other recreational opportunities, as well as public services such as a library, post office, hospitals and police and fire departments.
Information on the history of Katy, community events and relocation can be found on the Katy Chamber web site at
http://www.katychamber.com/
Award-winning Schools
Residents of Seven Meadows are served by the Katy Independent School District
, one of the finest school districts in the state of Texas. Katy ISD encompasses 181 square miles and with the start of the 2007-2008 school year, has grown to serve more than 53,000 students in 47 schools, including six high schools. Katy offers an oustanding instructional program with facilities, equipment and materials that are among the best in the sate.
Seven Meadows lies within the attendance zone of four excellent Katy schools: Michael Griffin Elementary, Beckendorff Junior High, the new Seven Lakes High School and Elementary #31 (opening Fall 2008). Seven Lakes is adjacent to Seven Meadows, and along with Beckendorf Junior High, has been rated "recognized" according to the latest assessments.
For more information visit the Katy ISD web site at
http://www.katyisd.org/
Surrounding Community
Seven Meadows is minutes from a tempting array of shopping, dining, entertainment and recreation opportunities. A Home Depot and a new HEB are both across the street from the entrance to the community, and convenient highway access and a nearby Metro Park & Ride bring major business and employment centers within easy reach.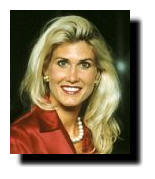 Shea Huser

Broker Associate
RE/MAX Cinco Ranch
Cell:(832) 444-4134
Office:
Office:
281-579-7900 x 185
Fax: 281-693-0817
Email Me
Home
Houston Texas
Katy Texas

Home Buyer Services
Home Seller Services
Request a Market
Analysis on your Home
Compare Subdivision Statistics
Zip code Areas Served by Re/Max Cinco Ranch: